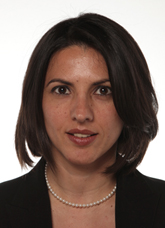 On. GIOVANNA PALMA Onorevole of the Chamber of Deputies
Are you On. GIOVANNA PALMA Onorevole at the Italian parliament?
Manage your new web site in 2 minutes.
Try now it's free!
Onorevole in office since 24/02/2013
GIOVANNA PALMA - Onorevole 44 years, born a NAPOLI. Eletta nella lista PARTITO DEMOCRATICO possiede una Laurea in giurisprudenza
Contrario

12047
Astensione

26
Favorevole

4778
Non ha votato

7899
Feedback
Do you know On. GIOVANNA PALMA? What do you think about?
---
---
With On. GIOVANNA PALMA at the Italian parliament with the PARTITO DEMOCRATICO (PD) (19.03.2013) group